Thank you for submitting your entry. the following are the basic rules for most of our chili sponsored contests.
Acts Six Soup Kitchen
2019 Chili Cook-Off Rules
1. Check in at the Welcome Table in the Bowery area as soon as you arrive. Set up is between 8:00 and 9:00 am. No one will be allowed to set up after 9:00 for safety reasons. If you have not paid your entry fee(s) you will need to do this at check- in, in order to participate. Entry fee(s) paid at the cook-off will be Cash Only.
2. Chili needs to be in a pot, roasting pan, or dutch oven. Make sure your chili is at or above 140 degrees and ready to be served at 11:00 am. Please make sure your chili stays covered when you are not serving.

No electricity will be provided, so come prepared with outdoor cooking type devices to cook your food on. Bring your own awnings and tables hand washing station and cookware.
Hand Washing Station: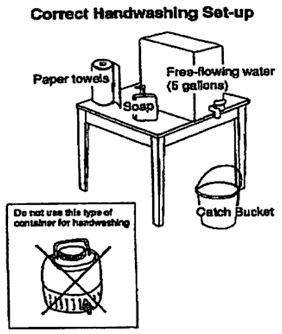 Those entered in Best Dressed Table need to have decorations completed by 11:00 am.


Traditional Chili - has no beans or pasta and is cooked with red chili's. No fillers.
Chili ingredients: Prepared only by the entrants using fresh ingredients. No premade, canned or bottled chili is allowed.
Chef's Choice Chili – can be made with any fresh ingredients; the sky is the limit for this category. Please, NO "Stews". You may use "Chili Beans In Sauce." This only beans and sauce with nothing else added. You may NOT use premade cans of chili such as Chili Con Carne or Chili With Beans type chili.

Garnishing of the chili will be allowed at this cook-off. Items such as cheese, sour cream, chips etc may used. No "Side Dishes" allowed such as corn bead type items.
Please label your chili mild, medium, or spicy. Please do not make your chili too hot. Please keep in mind that our judges are just average people, thanks.


You may be asked to taste your own chili.
3. You will receive an entry number and description card. Clearly display this card at your station. This will help attendees be aware of the awesomeness of your chili. It is not required to pass out your recipe; if you choose to do so, please have preprinted cards ready to pass out .
NO samples of your chili are to be given out to the general public due to Health Department Regulations
4. At least one person must be present in your booth during the entire chili cook off. Someone must be representing your chili during the competition and tasting at all times. Contestant(s) must be present to win prize(s).
5. Acts Six Soup Kitchen will supply sampling cups, spoons and napkins for the chili being turned into the judges. Contest organizers will Not supply items not listed above. Including roasting pans, or cooking utensils. Please come prepared.
6. This will be a blind tasting competition; please do not tell judges any information about your chili. This will disqualify you. When you check-in at the welcome table you will be given a time between 11:00 am and 12:00 pm when to have 3 bowls of chili prepared for the judges. The bowls of chili will then be picked up by a volunteer and delivered to the judges. If your Chili is not prepared by the time slotted for pick-up, you will be disqualified. Once your chili is submitted you will not have access to it, until judging is complete. There will be no access to the judges until all judging is over. Judges decisions are final. If there is a tie, there will be a tie breaker with a repeat taste testing by the Judges, so save 3 bowels of chili until 12:30 pm.
7. This contest will award a First Place, Second Place, and Third Place Winner in two categories': Traditional Chili and Chief's Choice.
1 Winner will be announced for Best Dressed Table.


Best Dressed Table will be judged by our contest judges.
8. This is a friendly competition, please be courteous to everyone.